This week on Facing the Future, we hear excerpts from a panel discussion I participated in at the LBJ School of Public Affairs at the University of Texas in Austin focusing on America's long-term fiscal and economic outlook. It was one of three panel discussions Concord Coalition staff participated in this week all over the country as part of our 30 for 30 series of events on college campuses nationwide, marking our 30th anniversary. While I was in Texas, Concord Coalition policy director Tori Gorman appeared at a panel discussion at the University of California Fresno, and our chief economist Steve Robinson served on a panel at his alma mater, the University of West Georgia.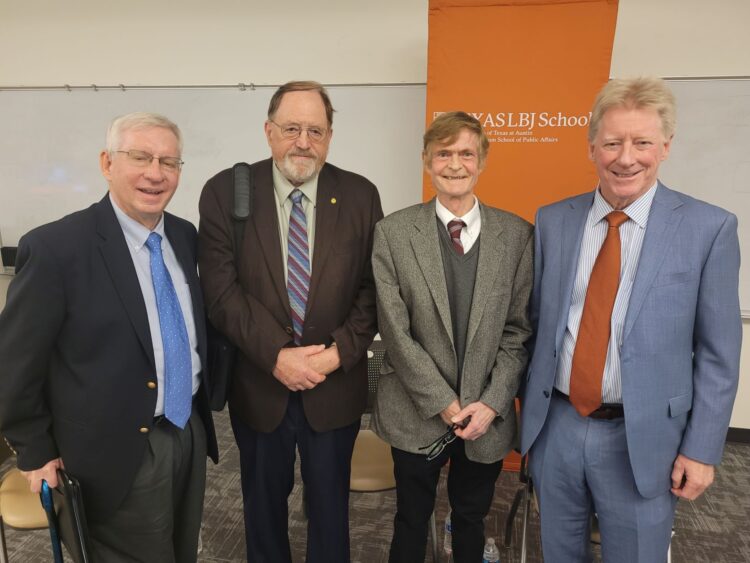 Joining me at the UT Austin panel was LBJ School economics and public policy professor James K Galbraith and Will Marshall, president and founder of the Progressive Policy Institute. The panel was moderated by Don Kettl, a retired professor at the LBJ School who was also Dean of the University of Maryland School of Public Policy.  Both Don and Will are veterans of The Concord Coalition's Fiscal Wake-Up Tour from the early 2000s. Each of us gave opening statements, and then we turned to the audience for questions. 
My opening statement focused on how our national debt is growing so large and how rising interest rates  mean that debt service costs are quickly becoming a much bigger share of the annual federal budget. I also addressed three major challenges that must be dealt with if we are going to see more long-term economic growth: constraining health care costs as America gets older; revamping our immigration system so we can grow the size of the working age population; and taking more seriously the challenge of climate change, because – like our national debt – the longer we ignore it (and the warmer the planet gets), the more damage it will do to our economy and our federal budget. 
Will Marshall, who heads the Progressive Policy Institute, sounded a  more optimistic tone about the long-term economic outlook in his opening statement, arguing for e  major investments in non-college education for America's young people.
"United States public policy is biased in favor of college-going youth," said Marshall.  "The federal government spends over $200 billion a year to help assist people who are college-going, and spends about $16 billion a year on job training, career preparation, career pathways, apprenticeship, all the things aimed at non college-goers. This is a huge, glaring inequity in our country. What we don't have is a robust system of upskilling, reskilling, job connection, career pathways, the shorthand for workforce development policy, school to work transitions, because we don't invest in it. We have about 500,000 registered apprentices in the United States. This is frankly pathetic. It hasn't grown much over the years, mostly confined to the old industrial sectors. It's about one tenth of what the British have, the Australians have, or the Germans have. They have much bigger apprenticeship sectors. We need a tenfold increase in the number of apprenticeships in America." 
Marshall cited recent opinion surveys of high school students in California showing that nearly two-thirds of those asked would prefer quicker, less-expensive vocational education that would put young people more directly into good paying middle class career tracks than going to a traditional 4-year college and incurring thousands of dollars in debt. 
Professor Galbraith made the observation that the world these young people are inheriting is going to look very different than the post World War II world dominated by the U.S. and the Soviet Union. Galbraith said we should expect global military and economic power to be much more widely dispersed in the coming decades, and he questioned whether America's leaders are reacting to these changes in an effective way. He cites the recent bipartisan CHIPS bill meant to bolster the domestic semiconductor industry, signed into law by President Biden in August. 
"By most accounts that I've read, the most recent salvo from the Biden Administration  aimed at the semiconductor industry in China did do some damage, maybe some serious damage, by withholding the most advanced semiconductor technologies from China," said Galbraith. "But consider that the Biden White House just last year did a very good report on supply chain issues and in analyzing that sector, pointed out that China is one half of the world market for semiconductors. And if that market goes away, what you're doing is you're cutting U.S. companies – the most advanced ones – from the funds they require for research and investment. Now, those funds can be replenished to some extent by public subsidies, and that's in fact what the administration's bill seeks to do. But then I have to ask – how is this really different from a state directed technology sector from a command economy? And by what measure will we actually ensure the requisite degree of performance and avoid the stagnation into which command economies are prone to fall? My own sense is, good luck with that."    
There were some great questions for the panelists from the audience, particularly from our Concord Coalition fiscal lookouts Tejas Vakil, inquiring about more accurate measures of worker productivity, and Jeff Harper, asking about the true measure for when a country hits its real debt limit.
Here is the full video stream for the panel discussion:
Hear more on Facing the Future. I host the program each week on WKXL in Concord N.H., and it is also available via podcast. Join my guests and me as we discuss issues relating to national fiscal policy with budget experts, industry leaders, and elected officials. Past broadcasts are available here. You can subscribe to the podcast on Spotify, Pandora, iTunes, Google Podcasts, Stitcher, or with an RSS feed. Follow Facing the Future on Facebook, and watch videos from past episodes on The Concord Coalition YouTube channel.