This week on Facing the Future, we focus on the economic and federal budget impact of climate change, with excerpts from a recent panel discussion on the topic that The Concord Coalition sponsored together with the  League of Conservation Voters and the Warren B. Rudman Center for Justice, Leadership and Public Service at the University of New Hampshire Franklin Pierce School of Law. You can see video of the entire 90-minute panel discussion online. Our moderator for the event was longtime New Hampshire journalist Laura Knoy.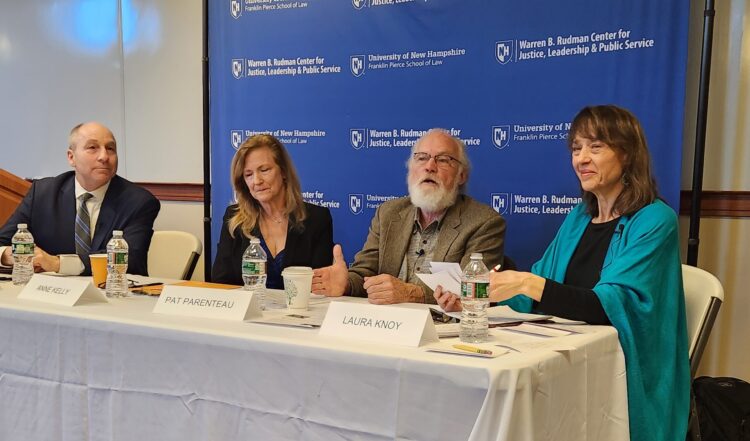 Our panel of experts included: Anne Kelly, Vice President of Government Relations for the climate investment group Ceres; Pat Parenteau, Emeritus Professor of Law and Senior Fellow for Climate Policy at the Vermont Law and Graduate School; and Brad Campbell, President of the Conservation Law Foundation. Concord Coalition Communications Director Av Harris introduced the program.  
For those who might be wondering why The Concord Coalition is sponsoring a panel discussion focusing on climate change, consider that in 2022 the White House Office of Management and Budget released its very first estimate of how much warming temperatures and rising sea levels impact the federal budget. Among the findings: the current cost of responding to a growing number of environmental catastrophes including wildfires, supercharged snowstorms, and more intense hurricanes and flooding, is estimated at $130 billion annually. That is expected to increase as these extreme weather events grow more frequent. The 2022 OMB report also estimates that climate change will cause our gross domestic product to decline by up to 10% between now and the end of this century, which could mean yearly revenue losses of up to $2 trillion if that trajectory is correct.
"Climate change is increasingly a burden for taxpayers, which is one of the reasons that it's so appropriate that The Concord Coalition is elevating this issue," said Campbell. "When you get to the federal budget, you've got costs of disaster response, costs in the implicit subsidies of federal flood insurance, that's actually encouraging development in the wrong places. Even as we should be retreating from the places most exposed to extreme weather, we're actually subsidizing development in those places. At the federal level, certainly pertinent to The Concord Coalition's work, most disaster response is treated as an emergency appropriation. A one-time expenditure with no scrutiny of whether we should have an offset, what the budget impact is, or whether we should raise taxes to pay for it. So if you're a budget hawk, you really should be a climate hawk." 
Among some of the other implicit costs hitting the federal budget as a result of climate change are health costs, as the number of extreme heat and poor air quality days rise, affecting vulnerable populations such as seniors and low income families particularly in urban areas known as heat islands, where the density of buildings tends to amplify extreme heat conditions. Many of these individuals get health coverage directly from federal programs such as Medicare and Medicaid and as health impacts from climate change rise, so too does the federal expenditure to treat them.
Climate change is also a major economic cost to the private sector, as explained by two of our panelists. Pat Parenteau of the Vermont Law School gave a classic New England seafood example.
"I was telling the lobstermen in Maine and Massachusetts recently – though they didn't want to hear this – that your biggest problem is that the lobsters are going north." said Parenteau. "Entire ecosystems are shifting to the north. So the lobster fishery has already left most of the Atlantic coast. The one that's still in the Gulf of Maine is leaving as well. It's going to Canada right now. The entire ecosystem of the Atlantic Ocean and oceans around the world in response to warming and acidification is completely changing the marine ecosystem. Very tiny amounts of increase in carbonic acid in the oceans causes massive impacts on the base of the food chain. It attacks shell forming organisms. You're talking about – in our context – billions of dollars, and in the global context hundreds of billions of dollars."
Anne Kelly of Ceres broke down some of the other economic impacts of climate change across the private sector and why institutional investors have been putting pressure on publicly traded companies to adopt more climate friendly business practices.
"Any company that is trying to make things is going to be affected by extreme weather events, by business disruption, by threats to supply chain," said Kelly. "Whether it's cocoa, cotton, coffee, any number of agricultural commodities, supply chains are going to be affected. Communities and supply chains are going to be affected in various parts of the world where you're making products if there are extreme weather events, if whole communities are being wiped out, that's going to affect your cost. That's going to affect your planning. And that's one of the reasons why so many companies have started to – over the last several years – set net zero targets, purchase enormous amounts of renewable energy, and really start to take this seriously, because they felt it. Hurricane Sandy in 2012 was a big deal. Companies like L'oreal had facilities in Puerto Rico that were just shut down. Their whole facility became a community center for people to do laundry and to get water. So the level of disruption is profound for many of them, and they are seeing it and paying for it. And we end up paying for much of this because the private sector shares those costs with us."  
There was further discussion at this forum about strategies to reduce carbon emissions, including provisions of the 2022  Inflation Reduction Act, enactment of a carbon tax and the potential of polluter-pay laws.
Hear more on Facing the Future. I host the program each week on WKXL in Concord N.H., and it is also available via podcast. Join our guests as we discuss issues relating to national fiscal policy with budget experts, industry leaders, and elected officials. Past broadcasts are available here. You can subscribe to the podcast on Spotify, Pandora, iTunes, Google Podcasts, Stitcher, or with an RSS feed. Follow Facing the Future on Facebook, and watch videos from past episodes on The Concord Coalition YouTube channel.