On this Good Friday, the March jobs report was indeed good. The Bureau of Labor Statistics reported that the U.S. economy added 916,000 jobs last month, vastly exceeding consensus expectations of 675,000, and almost double the gain of the previous month (an upwardly revised 468,000). Employment gains were robust as nearly all major industries added to their payrolls. Leading the COVID jobs recovery were leisure and hospitality (+280,000 jobs), government (+136,000 jobs) and construction (+110,000).
March was also the third consecutive month of accelerating job gains, suggesting that the economy has reached an important inflection point in the pandemic recovery. As more Americans are vaccinated against COVID-19 and more states relax restrictions on public spaces, the pace of business reopening and re-hiring is quickening.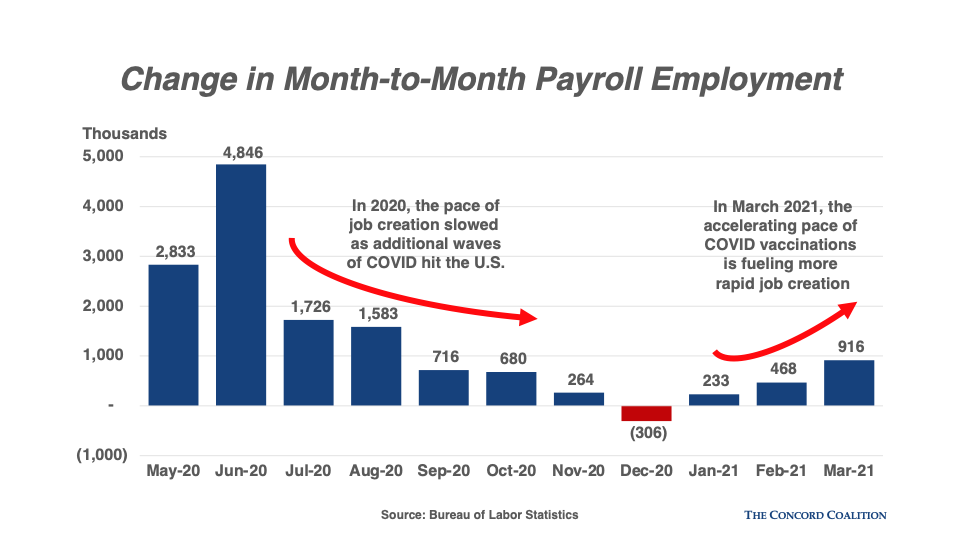 The unemployment rate dropped from 6.2 to 6.0 percent and the labor force participation rate ticked up from 61.4 to 61.5 percent—not only are we adding more jobs, but more people are seeking gainful employment as well.  All good news.
Still, we have a long way to go. The US has recovered only 12 million of the 22 million jobs lost since February 2020. At the current pace of job creation, it would still take more than 9 months to regain the pre-COVID level of employment. Most economists don't expect the U.S. to erase all COVID job losses until 2022.
A temporary blip in initial unemployment insurance claims?
The jump in initial unemployment insurance claims that preceded the Friday jobs report this week surprised many economists. The number of first-time applicants rose 61,000, from 658,000 to 719,000 during the fourth week of March, a larger pop than consensus expectations. Reassuringly, the benchmark four-week moving average of initial claims continued to fall, reaching its lowest level since the peak last March—evidence that the job market continues to heal.
Still, a fleeting thought certainly crossed the minds of watchful analysts: was this blip in initial claims a one-time event, or was it the worrying first sign of a disincentive to work attributable to the reinstatement of extra weekly pandemic unemployment benefits enacted by the American Rescue Plan Act? The Wall Street Journal reported that many food chains are struggling to fill jobs that pay $12-$15 per hour because potential employees aren't looking for work. Still, it could also be the result of a mini-surge in COVID cases in states that are opening too quickly.
Topline? Analysts should keep an eye on this data.
OTHER TOPICS YOU MAY BE INTERESTED IN: