Real GDP data released this week by the Bureau of Economic Analysis (BEA) showed that the nascent economic recovery that began with the COVID vaccine rollout this spring faltered in late summer as the rampant spread of the delta variant and supply chain woes crushed consumer spending. According to the BEA, third quarter real GDP grew just 0.5 percent over the previous quarter, down from 1.6 percent in the second quarter.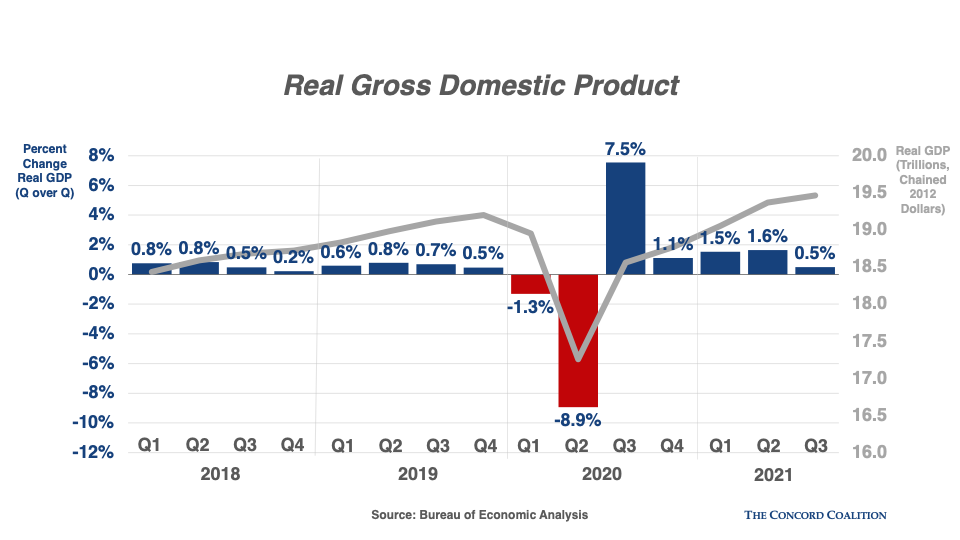 Growth in consumer spending, which has helped drive the recovery and accounts for two-thirds of GDP, slowed to 0.4 percent, down from 2.9 percent in the second quarter as Americans cut back on travel, restaurant meals, and other in-person activities.
As the shipping and trucking industries struggle to address the backlog of cargo containers jamming U.S. ports, the resulting empty store shelves are thwarting buyers who have money to spend. Third quarter data show purchases of durable goods like cars and household items fell 7.3 percent from the previous quarter. Business investment also slowed.
Although economists are encouraged by the decline in domestic COVID cases and a possible return to "normal" consumer activity, uncertainty surrounds the reverberating effects of the supply chain bottlenecks, especially inflation. As winter approaches and people move back inside, the nation holds its collective breath, awaiting signs that COVID is finally in retreat and the economy's worst days are in the rearview mirror.
OTHER TOPICS YOU MAY BE INTERESTED IN: